Create Zendesk tickets from your TI CC3220
---
Zendesk is a fantastic platform for providing customer support and for tracking issues that can improve your project. We'll show you how to create a support ticket in your Zendesk dashboard from your CC3220. Once you know how to create a support ticket, you'll be able to run any of the Zendesk Choreos from your CC3220.
This code uses our Zendesk > Tickets > CreateTicket Choreo.
Get Set Up
1Make sure you have a Temboo account. If you don't already have one, you can register for free.
2You'll need a free Texas Instruments account to use their online IDE, CCS Cloud. You can sign up here.
3If you haven't already done so, prepare your board for making secure connections by following our Setting up CC3220 for SSL tutorial.
4If you don't already have an account with Zendesk, you'll need to create one by going to the Zendesk registration page.
Run the Choreo
5Go to the Zendesk > Tickets > CreateTicket Choreo page and plug in the appropriate inputs as shown in the screenshot below.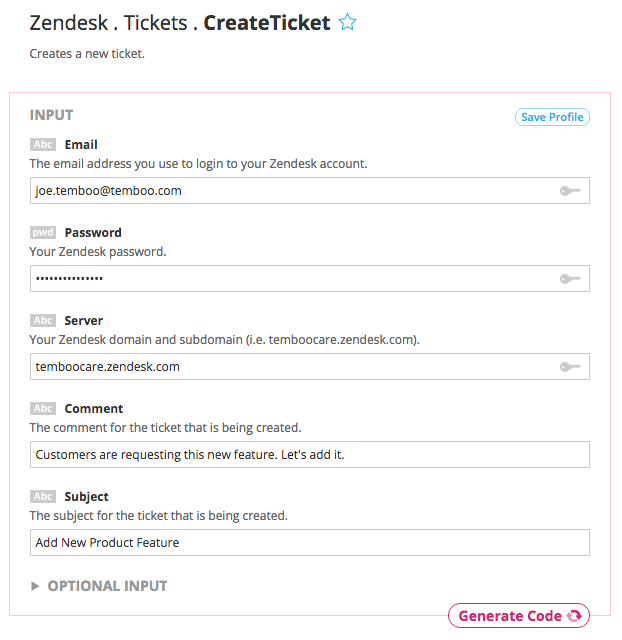 6Click Generate Code to test the Choreo from our website, then go to your Zendesk dashboard. You should see that your new ticket has been created.

Generate Code for the CC3220
7Select "Texas Instruments" from the drop down menu, then choose your board. Make sure that you've added details about how your CC3220 is connected to the internet.

8Scroll down the page to the CODE snippet box. Click the "Send to CCS Cloud" button to the right of your generated code. Name your application and click Send. Click the link that appears to visit the CCS Cloud IDE in your browser.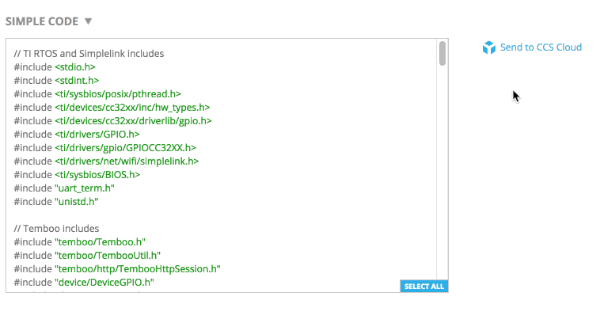 Run The Code
9Plug your CC3220 board into your computer via USB. Select its USB connection in CCS Cloud via the Target > Connect COM port... menu.
10Run your code on your CC3220 from CCS Cloud to create your Zendesk ticket.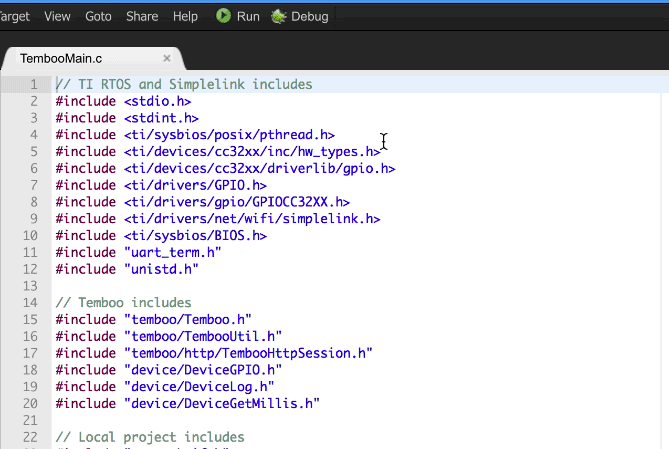 11Check your Zendesk dashboard again and you should see a second ticket created, this time from your CC3220.
What's Next?
Now that you've mastered creating a ticket in Zendesk from your CC3220, why not try working with some of the other Zendesk Choreos. Ready for something different? Check out the rest of the 2000+ Choreos in our Library and get inspired for your next project.
Need Help?
We're always happy to help. Just email us at support@temboo.com, and we'll answer your questions.
---